If you're looking for an easy and stylish crochet hat pattern, you'll love the Gathered Buds Hat! It's made entirely in single and half double crochet with bean/puff stitches to accent the brim.
The benefits of this hat design keep going — it requires no increases or decreases, just start and go! The Gathered Buds Hat starts as an oval and is worked from the top down. That's it, just a simple oval!
If that's not enough to convince you, I show you two different ways to finish. You can gather the top and add a pom pom or you can create a peak seam for a totally different look. It's your choice. Or, you can do what I did and make one of each for yourself to suit your mood.
This pattern is written in multiple sizes – toddler, child, and two sizes for adult. If you want to make a newborn hat to go along with the Gathered Buds version, check out my Sugar Sprout Hat.
The free pattern is provided below including the size, materials, and notes. An ad-free PDF version of the Gathered Buds crochet hat pattern is also available for you to purchase, download, and print out.
Pattern information below!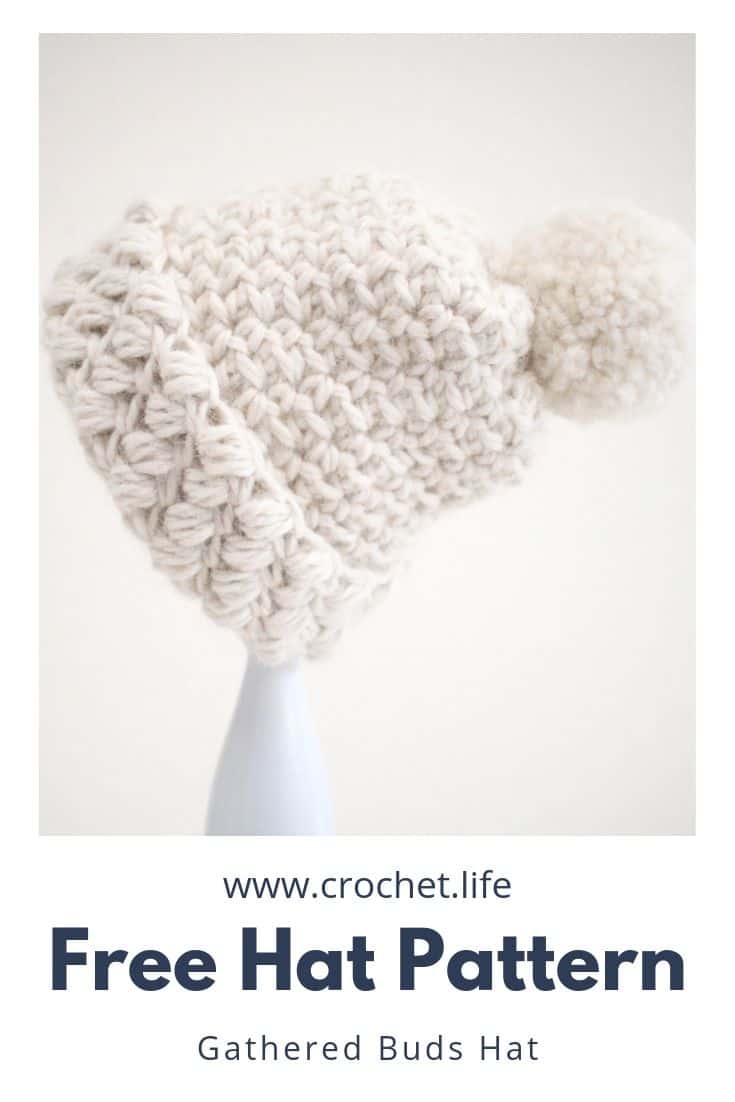 Size:
Pattern written in toddler/child's small; changes for child's medium/large, adult size small/medium and adult large/x-large in [ ].
Materials:
Single Color Hat
Approximately 130 [170, 200, 270] yards bulky weight yarn. Plymouth Baby Alpaca Grande bulky weight yarn used for hats in pictures.
Two Colored Hat
Base color: approximately 90 [120, 140, 180] yards bulky weight yarn. Plymouth Baby Alpaca Grande bulky weight yarn used for hats in pictures.
Accent color: approximately 40 [50, 60, 90] yards bulky weight yarn.
Crochet hook: Size L/11 (8 mm) or size needed to obtain gauge
Tapestry needle
Optional
3 3/8 inch Clover Pom-Pom Maker
Approximately 20 yards bulky weight yarn for pom-pom
Gauge:
In alternating half double crochet and single crochet, 11 stitches and 10 rows = 4 in (10 cm)
Skill Level: Easy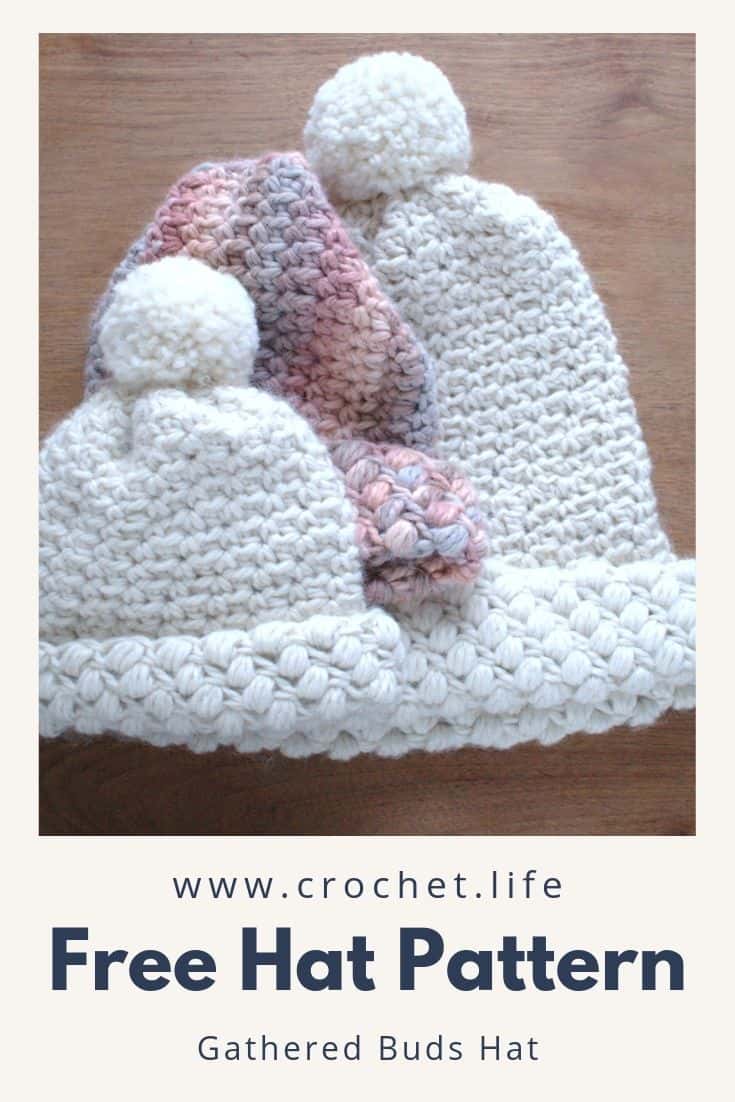 Pattern Notes
Hat is worked from top down in a continuous spiral. Do not join rounds unless specified.
Please take time to create a gauge sample before beginning work.
Longer length is built into pattern design in order to be folded at bottom to create a wide brim or cuff giving extra coverage for ear warmth.
The yarn used for these items contains natural fiber and requires special laundering. Please read yarn labels and follow directions to maintain the life of your crochet work.
| | |
| --- | --- |
| Hat Size | Head Circumference |
| Toddler/Child's Small | 17 in (43.2 cm) |
| Child's Medium/Large | 19 in (48.3 cm) |
| Adult Small/Medium | 21 in (53.3 cm) |
| Adult Large/X-Large | 23 in (58.4 cm) |
Special Stitches
(Altered) Bean Stitch / Puff Stitch:
Insert hook in stitch, yarn over and pull through, *yarn over, insert hook in same stitch, pull through, repeat from * 2 more times, yarn over, pull through 8 loops on hook, chain 1 (to lock stitch). Skip 1 stitch immediately following bean stitch. This will equal two stitches in pattern.
Gathered Buds Crochet Hat Pattern Directions
Chain 17 [19, 22, 25].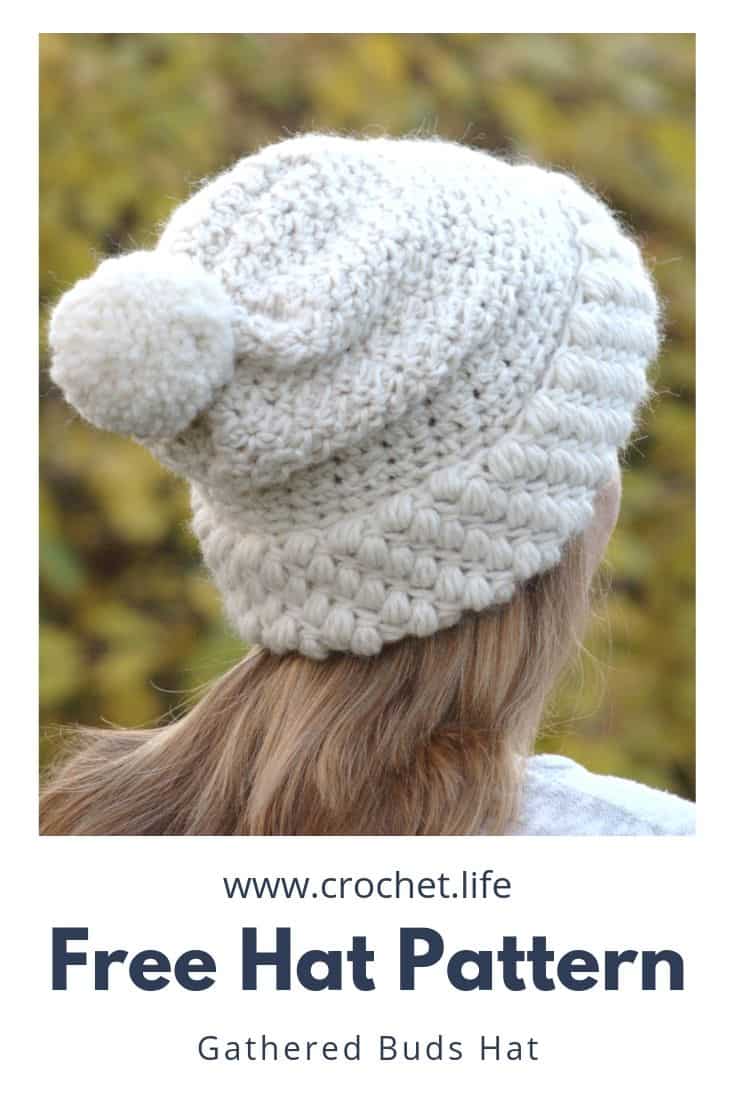 Round 1:
Stitch 2 single crochet in top loop of second chain from hook, single crochet in one loop of each foundation chain until last chain in row, stitch 4 single crochet in last chain, continue to turn foundation chain in your hand and single crochet in each second loop of foundation chain until last chain in row, stitch 2 single crochet in last chain in row, slip stitch in first single crochet to join round, 36 [40, 46, 52] single crochet stitches total. (This will create an elongated oval which will be the top of the hat.)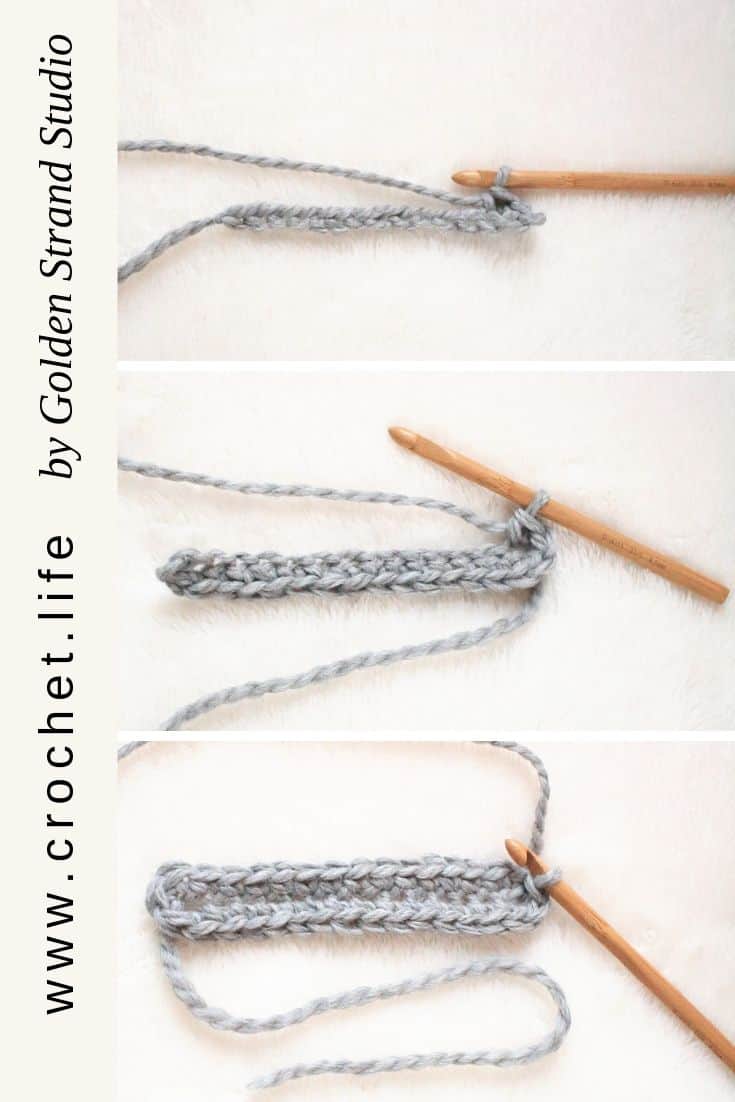 Rounds 2 – 17 [19, 22, 25]:
Single crochet in first stitch of previous round, half double crochet in back loop of second stitch of previous round, continue to alternate single crochet and half double crochet in back loop, working in a spiral for number of rounds indicated.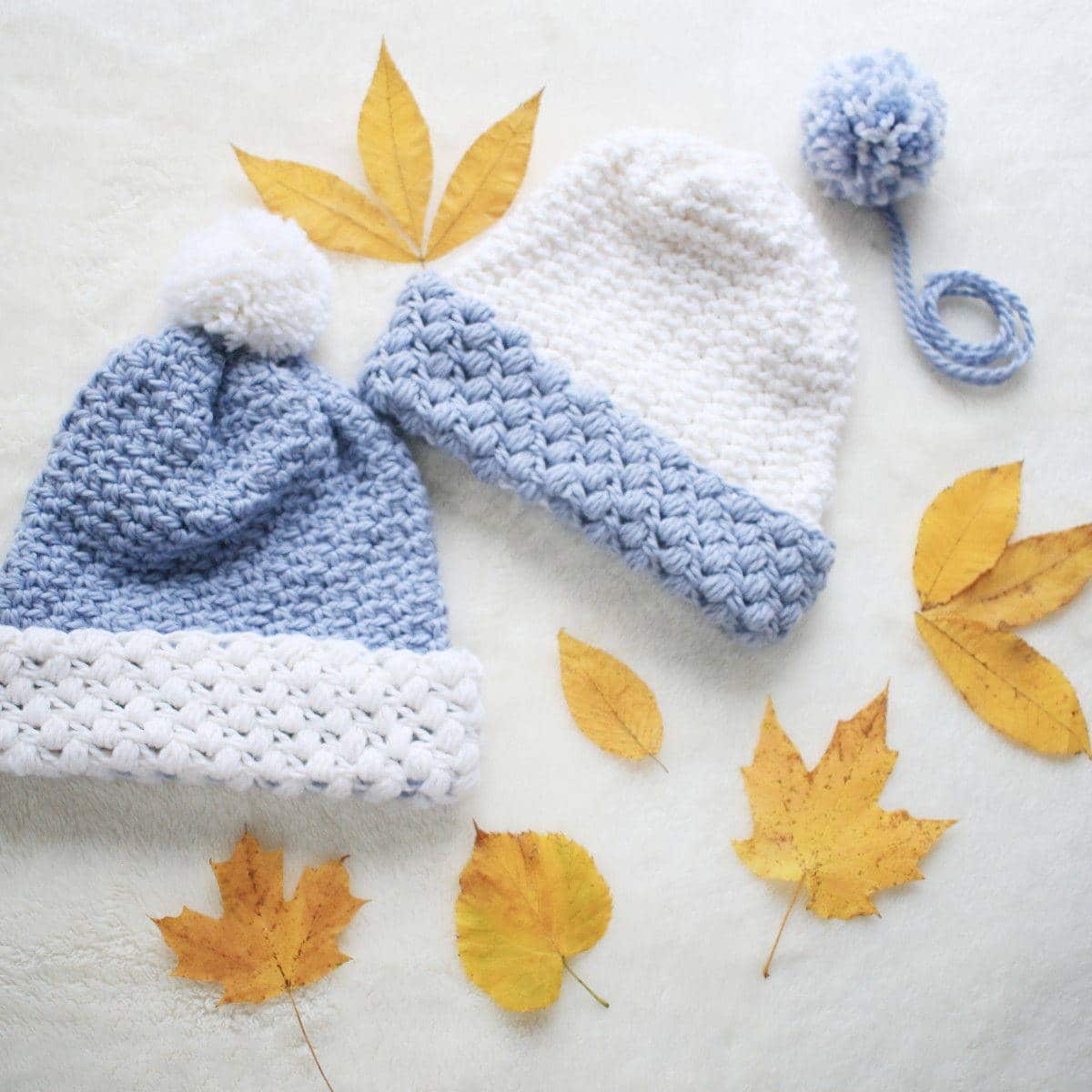 Rounds 18 – 21 [20 – 24, 23 – 28, 26 – 32]:
Continue with base color or change to contrast color yarn, Altered Bean Stitch (see Special Stitch Instructions above) in first stitch of previous round and continue working in a spiral with bean stitch for number of rounds indicated, slip stitch to join at end of final round. (18 [20, 23, 26] beans total)
Fasten off.
Gathered Top Finishing:
With right side of hat facing out, stitch outer top points of hat together with one loop through each side – see Figure 1.
Pull points together snuggly – see Figure 2. Pull thread through center stitch at top of hat – see Figure 2.
Pull three points together snuggly and finish sewing three points securely – see Figure 3.
Adjust gather and attach pom-pom if desired.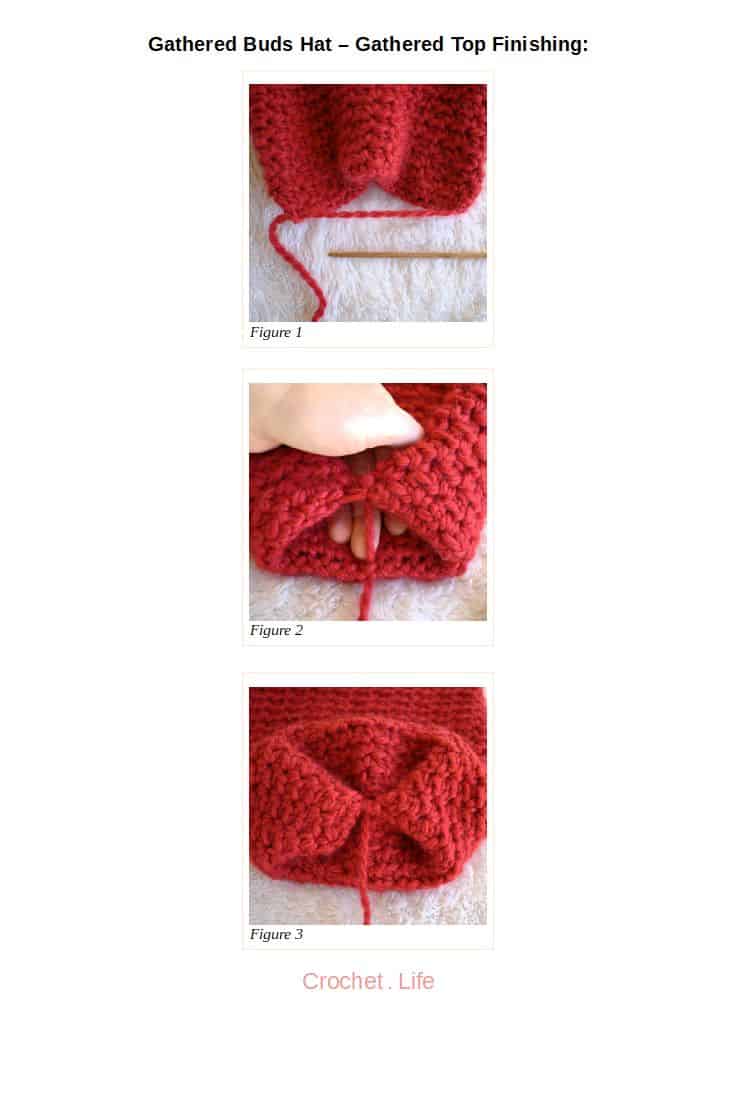 Peak Top Finishing:
Turn hat inside out for peak seaming.
Fold both top ends of hat together – see Figure 4.
Without leaving space between points, sew ends together at points – see Figure 5. Turn hat right side out.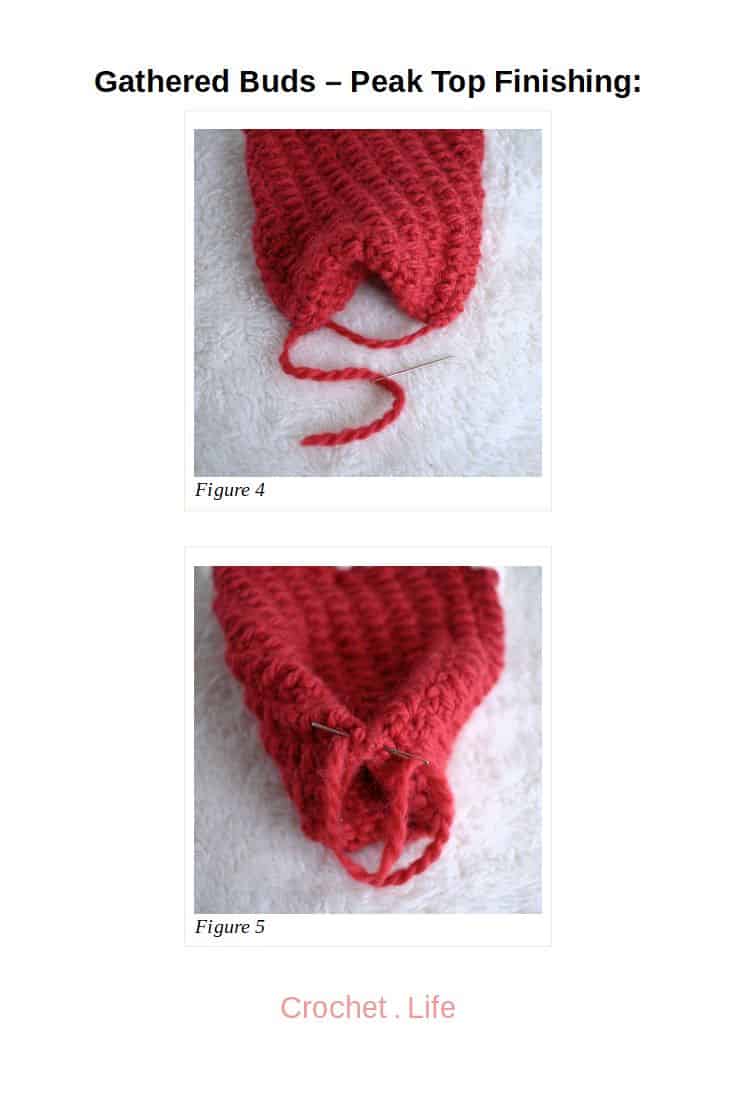 Check out our other Hat Patterns.
Add Gathered Buds Hat to your Ravelry Favorites.