This post may contain affiliate links. As an Amazon and Awin Associate I earn from qualifying purchases. More info
here.
Make a fun gift for someone who loves a good stuffie with these 11 adorable animal crochet patterns that work up quick and look fantastic.
If you enjoy crocheting, then you will know that there are endless amounts of different patterns that you can follow. When looking around, the options are endless, and there are so many great designs to consider.
One of our favorite patterns to follow are animal patterns, there are so many cute and unique patterns to choose from. In this article, we have compiled our favorite patterns around.
These include a wide variety of different animals to suit a wide variety of tastes. These patterns would be great to use for a birthday gift, or even as a treat for yourself or your child. They all vary in their level of difficulty, but the patterns are easy to understand and follow.
11 Adorable Animal Crochet Patterns
Raccoon Crochet Pattern For Beginners
As the name of this crochet pattern suggests, this is a great option to consider if you are a beginner. It is easy to follow, and the instructions are all straightforward. In addition to this, the pattern looks impressive when complete, and does not seem as though it was created for beginners at all.
The cost of this pattern is reasonable, and the seller does apply discounts from time to time too, which makes this pattern a steal! The pattern is sent quickly after you have paid for it, and the raccoon is roughly 25 cm in height, which is a good size.

There are two tutorial videos to follow which talk through everything in detail, and are particularly helpful.
Source: Etsy
Crochet Patterns Elephant and Koala
What is great about this crochet listing is that it features both an elephant and koala pattern. It is fantastic value for the money given that it features two designs. These patterns are easy to follow. As a result, they will be suitable for beginners to use too.
The file is a digital download that features 3 PDFs, taking you through everything you need to know, such as instructions, images, and the yarn parameters. The file is an instant download after it has been purchased, and the seller is fantastic at answering any questions you may have about the patterns.
Source: Etsy
Adorable Plush Turtle Crochet Pattern
So squishy and cute, this little loggerhead turtle is too sweet. And it works up fast using simple beginner-friendly stitches!
Source: Abigurumii
Fox, Bear and Raccoon Amigurumi Crochet Pattern

These particular crochet patterns are bestsellers, which is fantastic. The pattern's instructions are featured in English, and are fairly easy to understand. However, this is not listed as an easy pattern to follow. As a result, it would be better for those who have experience in crocheting.
As there are three different patterns included, you are spoiled for choice. This listing is great value for the money, and the patterns are available via a digital download, in one PDF file.
Each animal is around 8 inches (ca. 20 cm) in height, and would make a fantastic gift for a child. The detailing is fantastic, and these patterns make the perfect trio. The seller is a popular choice, and it is easy to see why.
Source: Etsy
Crochet Octopus
If you are looking for a cutesy animal pattern, then this is the perfect option for you. This crochet octopus is so adorable, and features beautiful twirly tentacles. This would be the perfect gift for children and adults alike.
The pattern is easy to follow, and this would be a great starting place for beginners looking to make some crochet animals. The design is reasonably priced, and the seller often offers discounts on patterns too. This is a bestselling pattern, and it is easy to see why.
The pattern can be downloaded digitally straight after you have purchased it, and it is available in an accessible PDF file. The PDF talks you through everything you need, and provides useful step-by-step photos of the different sections of this pattern.
The pattern is available in English, and is around 7 pages in length. The finished octopus will be 8.5 inches (ca. 22 cm) in its length.
Source: Etsy
Adorable Sloth Crochet Pattern
This is SUCH a fantastic baby sloth pattern. Super fast to work up and absolutely adorable, this one is definitely worth making.
Source: Grace and Yarn
Safari Crochet Patterns — Elephant Giraffe Lion Pattern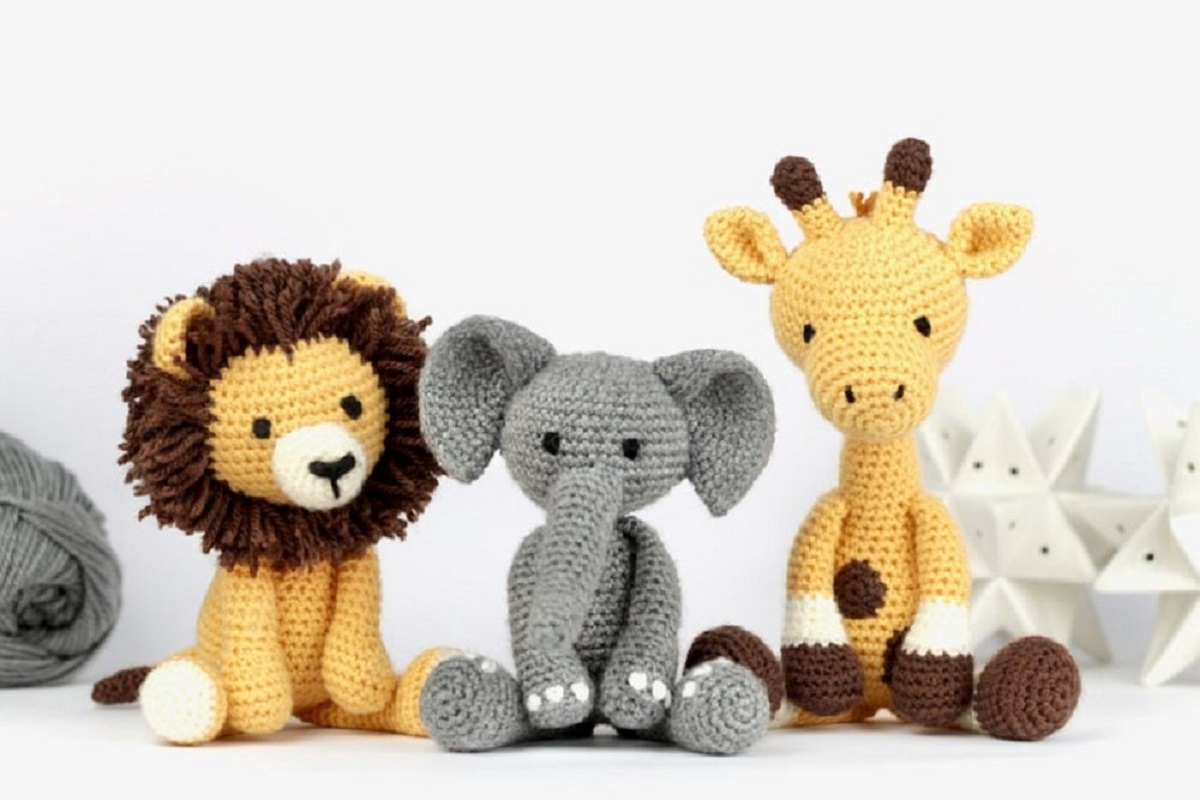 This trio of safari crochet animals are absolutely adorable, and would be perfect for a children's nursery. They are beautiful and also easy to make, which is certainly a bonus. What is great about these patterns is that when they are downloaded, they are in their own separate files.
When looking at the price of these patterns, they are one of the more expensive options featured. However, they are still reasonably priced, and not too expensive, especially when you take into consideration that there are three different patterns featured.
The designs can be created by beginners, and the seller has set out the PDF files well. The patterns are easy to understand and follow, and do not take too long to complete.
Source: Etsy
Crochet Pattern For Bobble Leg Reindeer
Out of all of the crochet patterns featured, this bobble leg reindeer is one of our personal favorites. It is so beautiful and would be the perfect Christmas gift for a child. It also doubles up well as a Christmas decoration, and you could place it on a shelf or on top of a fireplace.
The pattern is inexpensive to purchase, and it is better suited to those who are more experienced crocheters. This pattern is shipped out rather than being a digital download.
Source: Etsy
Hen and Chicks Crochet Pattern Set
An adorable little family that is so sweet, you can make this set in just a little while with super beginner-friendly stitches.
Source: Craft Passion
Crochet Toy Pattern – Bunny With Long Ears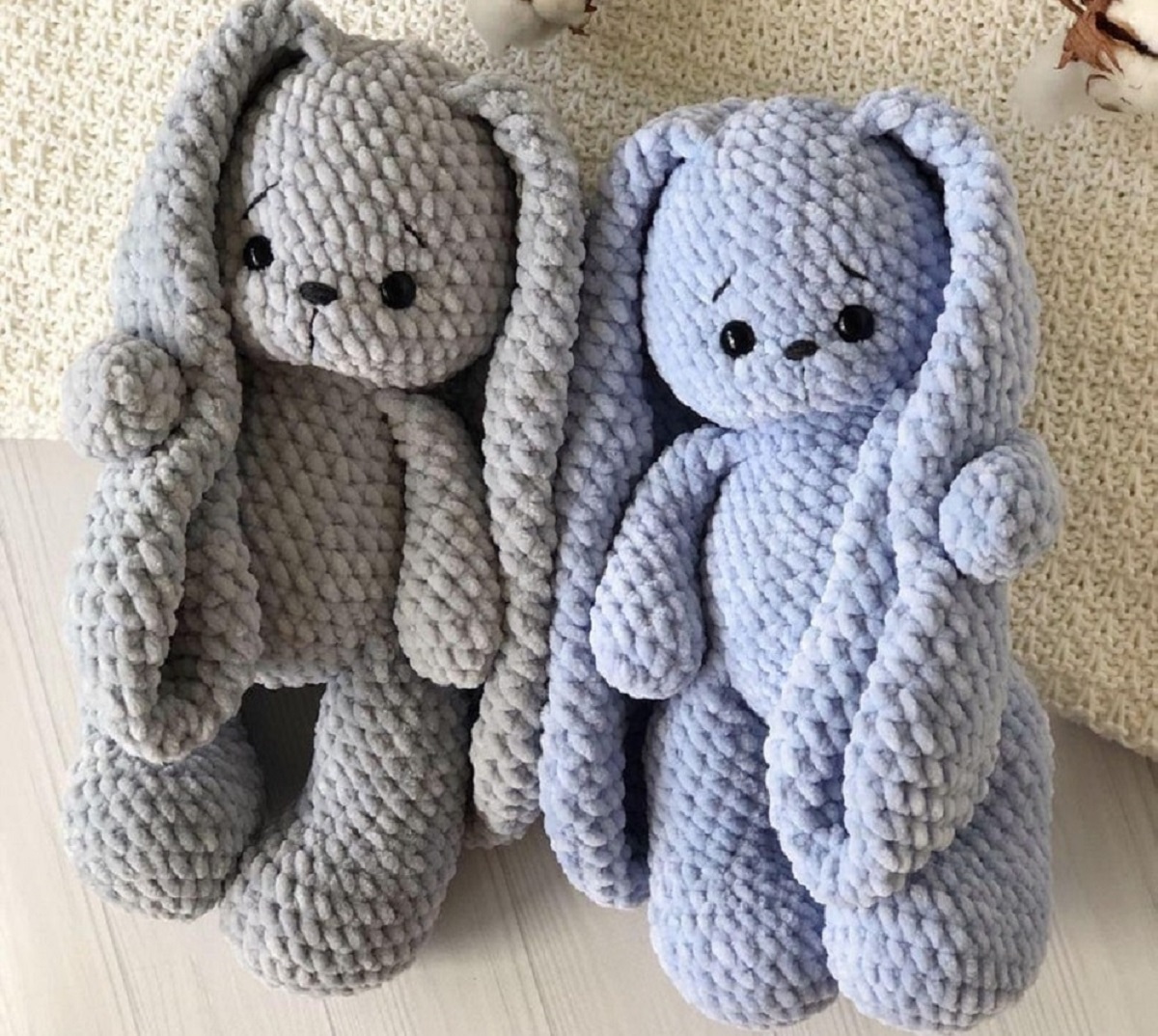 If you or a friend or family member is expecting a baby, this is the perfect animal pattern to download. This is such a beautiful design that is available to download as a PDF. It is not overly expensive to purchase, and the instructions are easy to follow.
What we love about this design is that it also features a sweater pattern you can follow to create a little sweater for the bunny — how cute is that! As this is not an easy pattern to follow, it is better suited to those with experience crocheting.
Source: Etsy
Summary
We hope you enjoyed this article. As you can see, there are so many beautiful animal crochet patterns available to purchase on Etsy. They are reasonably priced, and you really are spoiled for choice.
Which one are you going to try first?