This post may contain affiliate links. As an Amazon and Awin Associate I earn from qualifying purchases. More info
here.
Who doesn't love a big, chunky knitted or crocheted blanket? These 17 beautiful Tunisian crochet afghan patterns are too beautiful not to be next on your list!
What is a crochet afghan?
An afghan is a woolen blanket or shawl that is typically knitted or crocheted. These are often referred to as a throw, and are used as blankets for cuddling up on the couch, or draping over the side of a chair. In addition, afghans are often used as warming bedspreads, or as a decoration for the backs of couches.
So, why is it called an afghan? Well as it turns out, afghans is also the term for people who are from Afghanistan. This country is known for its colorful and distinctive textiles, including beautiful carpets, woolen blankets and draperies. This is why the 'afghan' became the term for knitted and crocheted blankets.
Why make an afghan?
Crocheting an afghan can be a nice, calming and enjoyable crochet project for you. You can spend time creating your own patterns, or crocheting tiles to stitch together, to create beautiful, large and chunky blankets for your home.
You can either crochet afghans for personal use, or sell them at local craft fairs and markets. Some people like to crochet patterned afghan blankets for friends and family as wonderful gifts that all can enjoy.
So, if you're ready to make your own Tunisian crochet afghan blankets, then take a look at these beautiful patterns!
17 Beautiful Tunisian Crochet Afghan Patterns
Tunisian Afghan Crochet Pattern
If you want to make a beautiful, simplistic and minimalistic afghan blanket that will suit all types of decor, then this pattern is for you. It is a bobble stitch Tunisian crochet afghan, using aran or worsted weight yarn and is crochet in all four panels.
The beautiful bobble stitch adds a touch of texture and dimension to this stunning afghan, which is cuddly and cozy once crocheted.
Source: Etsy
Sunset Stripes Tunisian Crochet Afghan Pattern
If you are looking for a simple Tunisian afghan crochet pattern, then this one is what you want. This Tunisian afghan crochet pattern is inspired by wall hangings, and has a vintage feel to it. The pattern itself is beautiful, with colorful lines and a thick stitch that you will never want to get out from under.
This pattern includes full written instructions, a color chart, no ads, notes and tips, along with a supply list and links to purchase the exact materials for the best results. If you want a thick, textured and stunning blanket, then this pattern is for you.
Source: Etsy
Tunisian Double Trouble Crochet Afghan Pattern
Such a pretty fabric created by this fun Tunisian crochet pattern. And although the blanket looks small, it's thick and warm, so it would be perfect for a small throw or sofa blanket.
Source: Rhon Strong
Daydream Tunisian Crochet Blanket Afghan Pattern
For a simply striped yet dreamy Tunisian blanket to wrap yourself up in, you have to use this crochet pattern. It has a modern, grid like texture on the front, and a knit like look on the back that you can cuddle up with.
The pattern comes with detailed instructions to make this afghan a breeze to crochet, and comes with a supply list for your convenience.
Source: Etsy
Tunisian 'Scrapghan' Afghan Crochet Pattern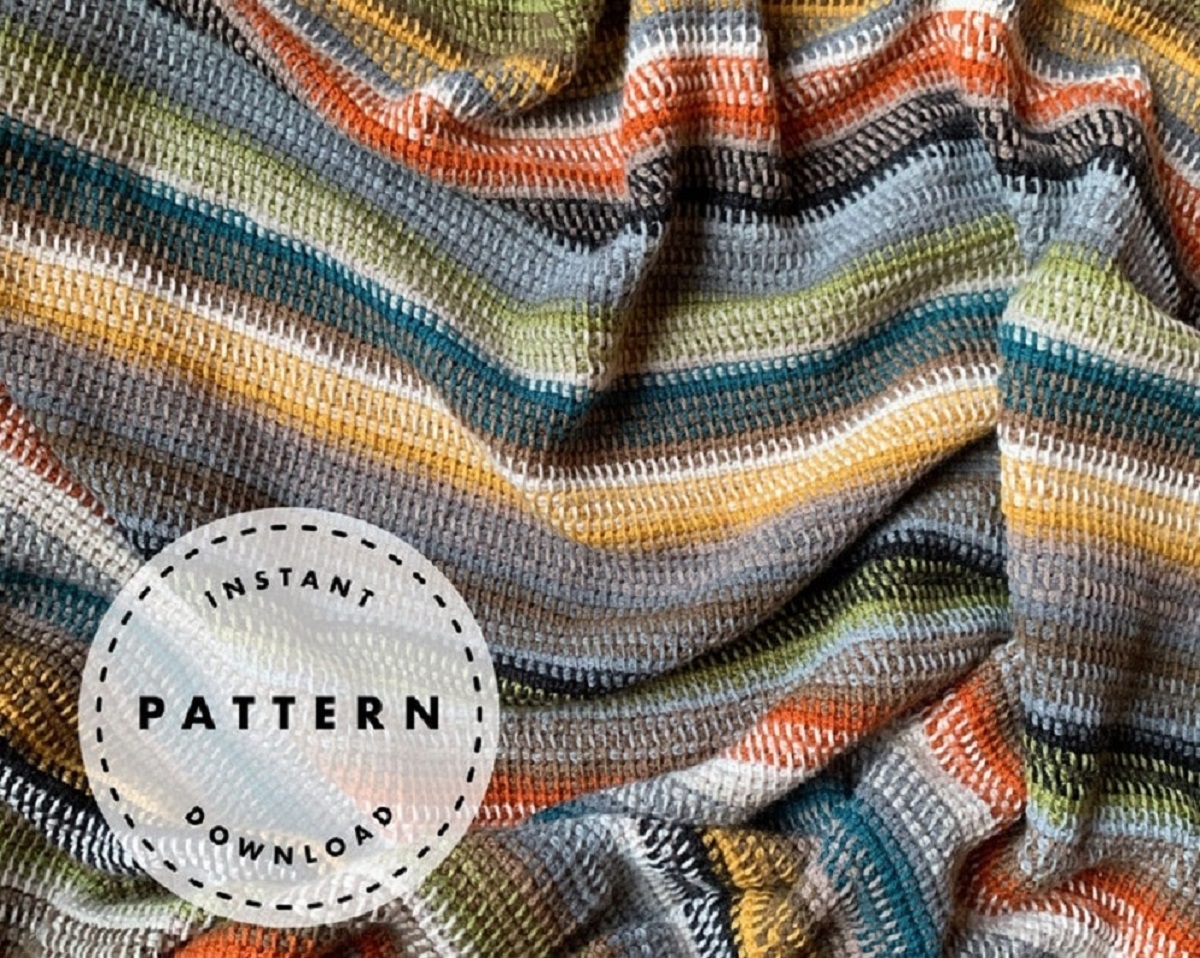 The inspiration behind this scrapghan is that you can use all of your leftover yarn scraps to create a stunning Tunisian afghan blanket! You can work up the stripes with a Tunisian simple stitch, and use worsted weight yarn to recreate this beautiful blanket.
What's great about this pattern is that it is a simple repeat so that you can adjust it to any width or length that you want to really make this afghan your own.
Source: Etsy
How to Crochet a Tunisian Temperature Blanket
I've always loved temperature blankets and this fun Tunisian style is such a beautiful way to make a temperature blanket, I just know it's going to be a fantastic afghan. Thick but lightweight, I just love how each one made will be unique!
Source: TL Yarn Crafts
Tunisian Sunset Afghan Crochet Pattern
This afghan is made with long strips of Tunisian crochet techniques, that are joined as you go for a simple, quick and easy process. It only uses a simple stitch and color blending technique to create this wonderful pattern.
With 9 pages of clear instructions, a materials list and helpful photos for guidance, this pattern is simple, easy and will be finished in no time.
Source: Etsy
Tunisian Afghan Camping Blanket Pattern
Want to easily whip up a beautiful crochet afghan blanket using a Tunisian crochet stitch? Try this crochet pattern for beginners! It comes with printable patterns, photographs for guidance, instructions and video tutorials to help you get the finished result.
Source: Etsy
Dylan's Blanket Tunisian Afghan
Such an absolutely gorgeous stitch, this blanket turns out to be so much more than just a cuddly way to keep warm. This is an heirloom piece that is so stunning, you'll love it for years to come.
Source: Mode Bespoke
Tunisian Confetti Afghan Pattern
This crochet afghan pattern is designed with beginners in mind. It can be made in multiple sizes, and is very easy to follow and quick to make!
Source: Etsy
Tunisian Vineyard Crochet Afghan Pattern
Want a weighted blanket to keep you warm at night? Crochet your own with this pattern. It's heavy and warm, and ready to wrap up in. It's made with Tunisian crochet stitches, and can be done with a Tunisian cable hook.
Source: Etsy
Tunisian Afghan Vintage Crochet Pattern
This pattern is beginner friendly, and easy to follow, with step by step instructions to make this stunning vintage style, textured afghan. Any medium weight aran cotton yarn will work perfectly for this pattern, and you get to practice your Tunisian crochet stitches!
Source: Etsy
Tunisian Marcy Afghan Crochet Pattern
If you want to try something new, and practice different techniques, then try this basketweave crochet blanket.
Source: Etsy
Tunisian Zig Zag Afghan Crochet Pattern
Get working on those Tunisian crochet simple stitches with this easy crochet afghan blanket. It is designed with eyelets for a modern look, and a timeless zig zag design.
Source: Etsy
Tunisian Herringbone Afghan Crochet Pattern
Want a throw that will be personal, yet a focal point in your living room? This one's for you. You can create this afghan with some openwork herringbone and Tunisian crochet stitches. Crocheters of all skill levels will thoroughly enjoy creating this pretty afghan.
Source: Etsy
Tunisian Crochet Sampler Afghan Pattern
For the intermediate crocheter, you will want to try this Tunisian crochet stitch pattern to create a striking blanket. Thirty five Tunisian crochet stitch patterns make up this heirloom sampler afghan, so you better get to work and follow the step by step photos and instructions from this pattern!
Source: Etsy