This post may contain affiliate links. As an Amazon and Awin Associate I earn from qualifying purchases. More info
here.
These 14 cozy throw pillow crochet patterns are easy and fun. Every type, shape and size you can imagine and a little more.
If you have started to learn how to crochet and want to embark on your first project then there is nothing better than making a pillow. Not only are pillows incredibly easy to make but depending on the pattern, you can play with different stitches according to your own ability.
However, a quick internet search will show an overwhelming list of options which is why we have gathered the most beautiful pillow crochet patterns that are available online in order to provide you with plenty of inspiration.
Here are the most beautiful pillow crochet patterns available on the web!
14 Cozy Throw Pillow Crochet Patterns
CROCHET PATTERN ⨯ Diamond Bobble Pillow ⨯ The Labadee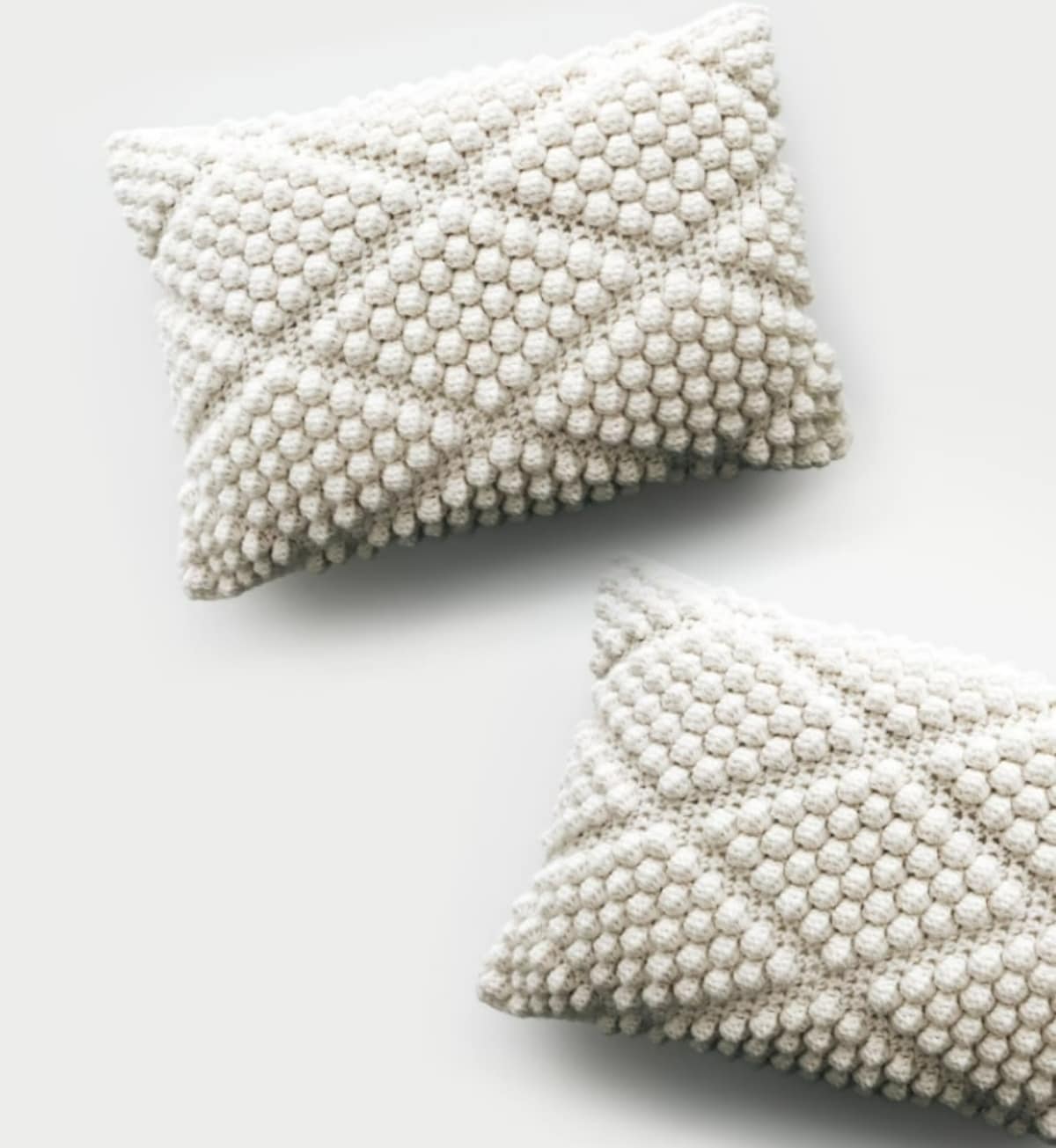 This beautiful crochet pattern is for a diamond bobble pillow which features a beautiful texture to provide a 3D finish. The bobble pattern and diamond shape are mixed together to create a statement for any style of interior.
The PDF file comes as an instant download immediately after purchasing and is suitable for all skill levels making it a perfect project for beginners. Written in English using US terminology, this is also a fantastic project for those who want to improve their pattern reading skills.
The finish size is 12 inches by 16 inches and the recommended tool and material list is provided in the PDF booklet so you can have even better results.
Source: Etsy
Strawberry Pillow Crochet Pattern
This strawberry pillow crochet pattern features individual strawberries that are added on top of the pillow to give it a 3D effect.
This crochet pattern is written in English with both US and UK terminology making it more accessible and great for those who want to improve their pattern reading. Great for those who are advanced beginners and want to test themselves on the skills that they have learned so far.
This PDF booklet includes detailed instructions complete with photographs so you can track your progress easily.
Source: Etsy
Ridiculously Easy Throw Pillow
Seriously the most simple pattern you can imagine for a throw pillow and looks SO fantastic on the couch!
Source: The Craft Patch
Pillow Case Crochet Pattern
For those who have just learned how to crochet and want to work on their skills then this pillow case crochet pattern is the perfect one for you. Beautifully textured with a 3D effect, this crochet pattern only requires you to work in the back loops which gives it the texture.
The instructions are incredibly easy to follow and come with plenty of photographs and tips which means that you can track your progress with the assistance of visual aids.
Source: Etsy
Crochet Cushion Cover Pattern
This crochet cushion cover has been written with all skill levels in mind and provides in depth step by step instructions which includes larger photographs at each stage to give you both a written and visual aid.
The PDF booklet is 16 pages in total and also provides recommendations on what tools and materials you will need to ensure that you have the best results.
Source: Etsy
Basic Crochet Throw Pillow Pattern
This is just a fantastically easy throw pillow perfect for a beginner. The color options are so wide open and this works up fast so you could make several for the different seasons!
Source: Pattern Paradise
Textured Rustic Pillow Cover Crochet Pattern
This textured rustic pillow measures 17 inches by 17 inches and is a fantastic project for beginners and intermediate crocheters who have a good knowledge of basic stitches and want to try out some trickier stitches.
This purchase comes with a PDF booklet that provides in depth instructions complete with photographs to provide a visual aid. As well as the 17 inches by 17 inches pillow, you'll also receive instructions on how to make a pillow that is 14 inches by 14 inches and 20 inches by 20 inches.
Source: Etsy
Crochet Throw Pillow Pattern
This crochet throw pillow pattern provides an instant download PDF file with instructions that are provided in English and use US terminology. Best for intermediate crocheters, this pillow pattern incorporates both basic and difficult stitches to create a beautiful texture.
Not only are the step by step instructions detailed and easy to follow but it also comes with various video tutorials to help you throw the more difficult stages of the project.
Source: Etsy
Buttoned Throw Pillow Crochet Pattern
Elegant and fantastic, this is just a wonderful all-around crochet throw pillow. I can't tell you how much I love this.
Source: Yarn and Chai
Bobble And Diamonds Crochet Pillow Pattern
This bobble and diamond crochet pillow pattern is a great project for beginners who want to work on mixing textures.
The instructions are easy to follow and come with step by step guidance that also comes with photographs to give you a visual aid. The great thing about this pillow is that it stitches up really quick and can be completed in an afternoon.
Source: Etsy
Diamond Bobble Boho Throw Pillow Cover Crochet Pattern
This diamond bobble throw pillow is great for those who have a boho design aesthetic and is a fantastic option for beginner and intermediate crocheters who want to enhance their skill set. Working up quickly, this crochet pillow fits perfectly within a rustic setting.
However, for beginners, it's important to remember that you need to count as you go to ensure that the bobbles are all spaced out correctly and give that signature texture.
Source: Etsy
Crochet Pillow Cloud
This crochet pillow cloud pattern provides plenty of detailed instructions with photographs so you can make up this pillow quickly and easily while remaining accessible for advanced beginners.
This PDF download comes with everything you need from the tool and material recommendation list, an 18 page instruction manual that comes with step by step guidance and over 25 photos. There are also video tutorials so you can have an additional visual aid.
Source: Etsy
Pillow Moon Crochet Pattern
This Pillow Moon crochet pattern is the perfect addition for a newborn to cuddle against and the PDF file comes with plenty of detailed instructions as well as pictures which give you lots of step by step guidance on how to make an adorable amigurumi pillow.
Great for advanced beginners who have basic crocheting skills, you'll learn everything there is about assembling this pillow from recommendations on the tools and materials.
This pattern comes with four video tutorials so you can learn how to do various difficult steps such as embroidering the eyes and crocheting the legs as well as a 15 page booklet which includes more than 25 photographs to give you the perfect visual guide.
Source: Etsy