This post may contain affiliate links. As an Amazon and Awin Associate I earn from qualifying purchases. More info
here.
Of all the pattern collections I've put together, I have a special place in my heart for these 14 octopus crochet patterns. Wiggly, silly and especially cool.
If you want to make an adorable plushie then there are few options cuter than crocheting an octopus. Not only have they become increasingly popular in pop culture but they make great presents and can be made in all sorts of colors.
However, if you do a quick search on the internet, you'll quickly find that there are an abundance of choices available for octopus crochet patterns in all kinds of styles.
Lucky for you, we have gathered the most beautiful octopus crochet patterns available on the internet that you should consider which are suitable for all abilities so you are sure to find the perfect one for you.
Here are the best octopus crochet patterns anywhere.
14 Beautiful Octopus Crochet Patterns
Octopus Crochet Pattern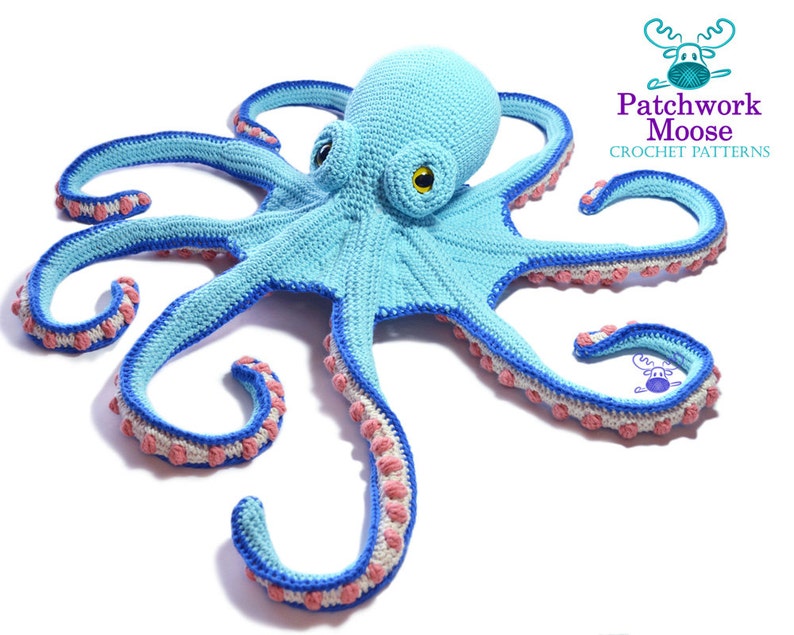 The first recommendation is this beautiful octopus pattern which is a more realistic looking plush and is ideal for more advanced crocheters who want to test their skills.
This large project is sure to take some time but will be incredibly fun to do. With the pattern terminology available in both US and UK, you will be able to read the instructions and there is even a French language option for those who need it.
Source: Etsy
Сrochet Octopus
If you want to make an amigurumi octopus then this is the best option for you. This small adorable plush is perfect as a gift idea and can be made up in different colors.
The cartoonish details can be customized to give the octopus varied personalities. The simple shapes are easy for beginners to work on their skills as it requires you to know the basic stitches.
The instructions are easy to read and the photographs are a great visual accompaniment.
Source: Etsy
Teeny Tiny Amiguri Octopus Pattern
So cute and sweet, I just want a million of them. This is a simple enough pattern for anyone that's crocheted before. Although, I do recommend if you're a beginner, find a pattern that uses a bit larger hook and thicker yarn. But that's just me.
Source: Mohu Mohu
Reversible Octopus Crochet Pattern
A huge trend that has been taking over are octopus teddies that are reversible and show a different emotion.
Although they may look complicated, this pattern is suitable for advanced beginners as it is a trick of using two colors and basic stitches.
This is a fun present for small children who will have plenty of fun with the two octopus characters.
Source: Etsy
Crochet Octopus Pattern
This crochet pattern is a charming design that is great for beginners who know how to do the basic stitches while the instruction booklet is full of images and detailed step by step guidance so you can easily make the project without any frustration or confusion.
What is great about this pattern is that it is available in an array of different languages making it highly accessible for more crocheters.
Source: Etsy
Chunky Amiguri Octopus Pattern
This adorable duo is just so sweet. And made with the squishy, soft chunky yarn, I'm sure they feel soft and amazing. Plus, this free pattern is quick and easy to work up with that chunky yarn, so you can make two in no time!
Source: Okie Girl Bling-n Things
Octopus Amigurumi Stuffed Toy
This pattern is adorable and an ideal choice for advanced beginners while highly skilled crocheters will be able to make this plush within half an hour.
This octopus only requires knowledge of the basic stitches while there are plenty of options for customization so you can play with the colors and facial features.
The shape is different than the usual simply round shape but it isn't that much harder making it the perfect challenge for beginners.
Source: Etsy
Amigurumi Octopus Pattern
If your aesthetic is more on the tiny and cute size then this pattern is definitely the right one for you. This amigurumi octopus pattern can be made up in an array of colors and make the perfect small gifts for loved ones.
Available in several languages and perfect for all abilities, this is a great starter project for beginners while advanced crocheters will be able to make one within half an hour.
Source: Etsy
Octopus Squish Pattern
So adorable and so very squishy. I love this fun pattern because the arms are flatter and suckers made with buttons. It's so unique and fun, I love it.
Source: Moogly
Apollo the Octopus | Giant Crochet Pattern
This is the largest pattern on the list and is the best choice for advanced crocheters who want to show off a variety of different stitches.
The 40 page PDF provides detailed and accurate instructions while there are over 200 images to help you give visual aid as you work through the project.
You'll also receive another booklet which is filled with amigurumi hints and tips so you can make the best results.
Source: Etsy
Huge Octopus Crochet Pattern
This large octopus pattern is great for those who want to undergo a big project. Great for advanced beginners who want to challenge themselves with more difficult stitches.
The large size means that you can keep track of your stitches closely. Not only is this project incredibly fun to do but the instructions are easy to follow and it stitches up quickly.
Source: Etsy
Ostin the Octopus Crochet Pattern
This crochet pattern is ideal for those who want to make a cartoon style octopus. The oversized head and large manga style eyes are very amigurumi which is perfect if you want to make an octopus teddy for a young child.
This 19 page PDF booklet is very detailed and the photographs will give you extra guidance should you want to track your progress.
Source: Etsy
Olivia & Paige the Octopus Moms And Their Babies
For those who want an octopus design that incorporates a lot of fun then this pattern will be perfect for you. This delightful pattern is a combination of patterns of cute octopus mums and their adorable babies.
The tiny hats that they wear as well as the swirly tentacles are more than likely to put a smile on the recipient's face and make a perfect toy for younger children to play with.
You can create a variety of different characters in all sorts of colors while the instructions are ideal for advanced beginners who want a challenge.
Source: Etsy